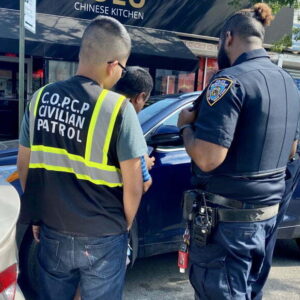 Cityline Ozone Park Civilian Patrol is a nonprofit organization that stands as a pillar of safety, support, and empowerment in the heart of the City Line and Ozone Park community. Since our inception in 2020, we have been driven by the unwavering commitment to create a secure, inclusive, and thriving environment for our neighbors.
Our mission is to provide safety, security, and support through our visible and responsive presence in the community. We are committed to fostering a sense of unity, trust, and empowerment among our residents. We strive to create a safe and inclusive community for all.
Our vision is to build a community where every individual feels secure, respected, and empowered. We envision City Line and Ozone Park as a place where neighbors support one another, crime is deterred, and the quality of life is enhanced. Through our efforts, we aim to inspire a sense of pride and belonging among our residents, ensuring a vibrant and thriving community for generations to come.
We pride ourselves on our core values of honesty, integrity, professionalism, unselfishness, and mutual respect. These values guide our actions and interactions with the community, as we work diligently to build trust, foster unity, and make a lasting impact.
At COPCP, we have a dedicated team of volunteers who share a common passion for community service. Our volunteers undergo extensive training to ensure their readiness in handling various situations. They are the backbone of our organization, contributing their time, skills, and expertise to make a positive difference in the lives of our community members.
Our board members provide leadership and guidance, overseeing the operations of COPCP and making strategic decisions to support our mission and vision.
Iqbal Ali, President
Nazrul Islam, 1st Vice President
Raju Uddin, 2nd Vice President
Shoaib Ali, 3rd Vice President
Souad Bouhayat, Secretary
Samad Uddin, Treasurer
Mohammad Khan, Executive Director
Daniel Hill, Communications Director
Sayed Hassan, Administrative Assistant
Daphney Paul, Pantry Inventory Lead
Iman Bukhari, Events Coordinator