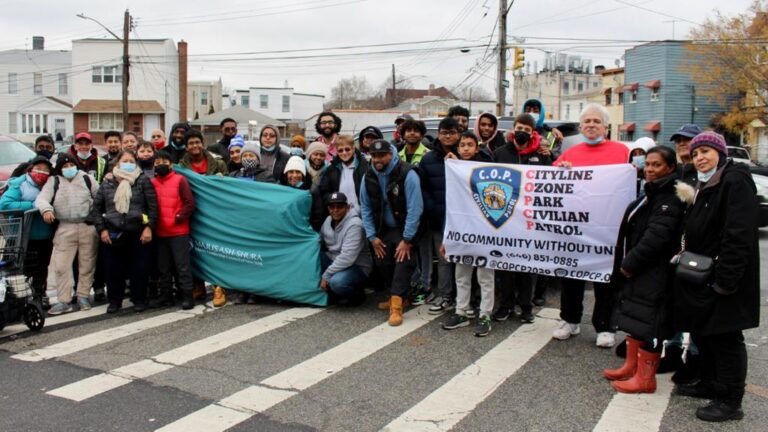 The Cityline Ozone Park Civilian Patrol is a nonprofit organization committed to the safety and wellness of our community. From safety patrol to food pantry, our organization brings many essential services to our community. 
The mission of the Cityline Ozone Park Civilian Patrol is to provide safety and aid to the community through our presence and services tailored to the needs of the City Line and Ozone Park Community. The safety of the community is our priority. We are here to serve the community and its needs. We believe no unity without community.
We are committed to the ongoing improvement of the services we provide to the community. By investing in and developing our most important assets, our patrolmen, we aim to achieve all our goals and exceed the expectations of our community. Through our commitment to high standards, our vision is to earn the trust of our community by delivering the best services within the City Line and Ozone Park Community. 
As a nonprofit organization Cityline Ozone Park Civilian Patrol, and as individuals, we value above all else honesty, integrity, unselfishness, professionalism, and mutual respect. For our patrolmen, we offer a rewarding and challenging environment where personal development can flourish. We hold ourselves accountable to our community and patrolmen by honoring our commitments, providing results, and continually striving to provide the highest quality of civilian patrol.
Iqbal Ali, President
Nazrul Islam, 1st Vice President
Raju Uddin, 2nd Vice President
Shoaib Ali, 3rd Vice President
, Secretary
Samad Uddin, Treasurer
Mohammad Khan, Executive Director
Daniel Hill, Communications Director
Sayed Hassan, Administrative Assistant
Daphney Paul, Pantry Inventory Lead
Souad Boyahat, Pantry Volunteer Lead
Iman Bukhari, Events Coordinator
Imran Uddin, Advisor
Rumel Ahmed, Advisor
Sharif Uddin, Advisor
Badrul Khan, Advisor